1862
George Vanderbilt is born in Staten Island.
As a grandson of famed industrialist and philanthropist Cornelius Vanderbilt, George takes his place among one of America's best-known families.
1888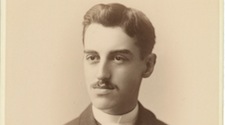 George Vanderbilt first visits Asheville, North Carolina.
A short visit to the Blue Ridge Mountains with his mother immediately sparks Vanderbilt's imagination. He has found the perfect location for his country home.
Learn more